Introduction
Noble School established in the year 2006 to spread the knowledge among rural children with the international facilities in a happy environment at an affordable fee. We provide equal opportunities to the rural students to achieve more and we ensure that regardless of their personal ability, each one has the opportunity to reach their personal best in their noble life.
Our motto "Knowledge is Life" interprets that knowledge is an essential element for life and our qualified and experienced staff are responsible in producing a noble life based on knowledge and knowledge useful for life. Indeed we make sure that learning becomes an integral part of living and thus for us  "Learning is living."
In its youthful knowledgeable journey, the school is first and largest CBSE school in the taluk and top in the district. Our students have participated and bagged prizes at International, National, Regional, State, District, Taluk and Cluster Level competitions in both Academics and Sports. So far the school has produced strong alumni of noble professionals.
Location
Noble School is located in Alipur.  Alipur is a small town consisting of a particular minority group located in Gowribidnur Taluk of Chikkabalapur District. The town is surrounded by lakes, and valleys along historic, salubrious  Makali Durga hill range and Gedere hill reserved forest.
Landmark: ACC Cement Factory, Thondebhavi – 5 KM
Nearest Airport:   Kempe Gowda International Airport, Bengaluru – 55 KM
Nearest Railway Station: Gowribidnur – 22 KM
Nearest Bus Station: Alipura on SH 94 – 1 KM
Nearest Police Station: Manchenahalli – 10 KM
Nearest Bank: Bank of Baroda, Alipura – 1 KM
Postal Address: No. 34, Alipur, Gowribidnur Taluk,
Chikkabalapur District, Karnataka, India – 561213.
Phone: 08155 – 289203 / 289605 / 289354 / 9141310000
Email: principal@nobleschool.info    
History
The need for quality education with facilities for holistic development at an affordable fee in an educative environment especially for boys was assessed for the area. The renowned hard working, sincere, far-sighted, visionary and possessive of a spirit to serve the community in the remote area of real rural villages came up to establish an institution called Noble School. Thus the doors of knowledge were opened on June 12, 2006 with international facilities at the center of the town. 
2006 – The first CBSE School of the taluk established with 280 students in R1 Block
2007 – Got recognised by Govt. of Karnataka and affiliated to CBSE, New Delhi vide 830180
2008 – Girls Admission started. Science, Computer, Language Labs and Library fully equipped.
2009 – 1st CBSE Class X Batch from taluk consisting of 7 candidates appeared for board exams
2010 – R2 Block inaugurated exclusively for girls and Kindergarten
2011 – Teachers Training, e-Admin, Swimming pool and other sports facilities inaugurated
2012 – Digital Classes and School Cinema incorporated
2013 – Montessori Activity Lab, Indoor Games, Play-pen, Conference Hall were inaugurated
2014 – Science Park and additional Library, Science and Computer Lab installed in R2
2015 – First batch of girls appeared in Class X board exams
2016 – Students' Canteens in R1 & R2 were established
2017 – First successful Noble Alumni invited as Chief Guest in school function
2018 – Inclusive Education Program launched with admissions of SEN Children
2019 – Special Academic Excellence Program launched   
2020 – Setting-up of Digital Infrastructure for Online/Hybrid Classes
2021 – Noble School as CBSE Exam Center – First in the Taluk
2022 – SEN students successfully completed their board exams – First in the town
2023 – Setting-up of Ed-Tech, Robotics Lab, and Coding Center.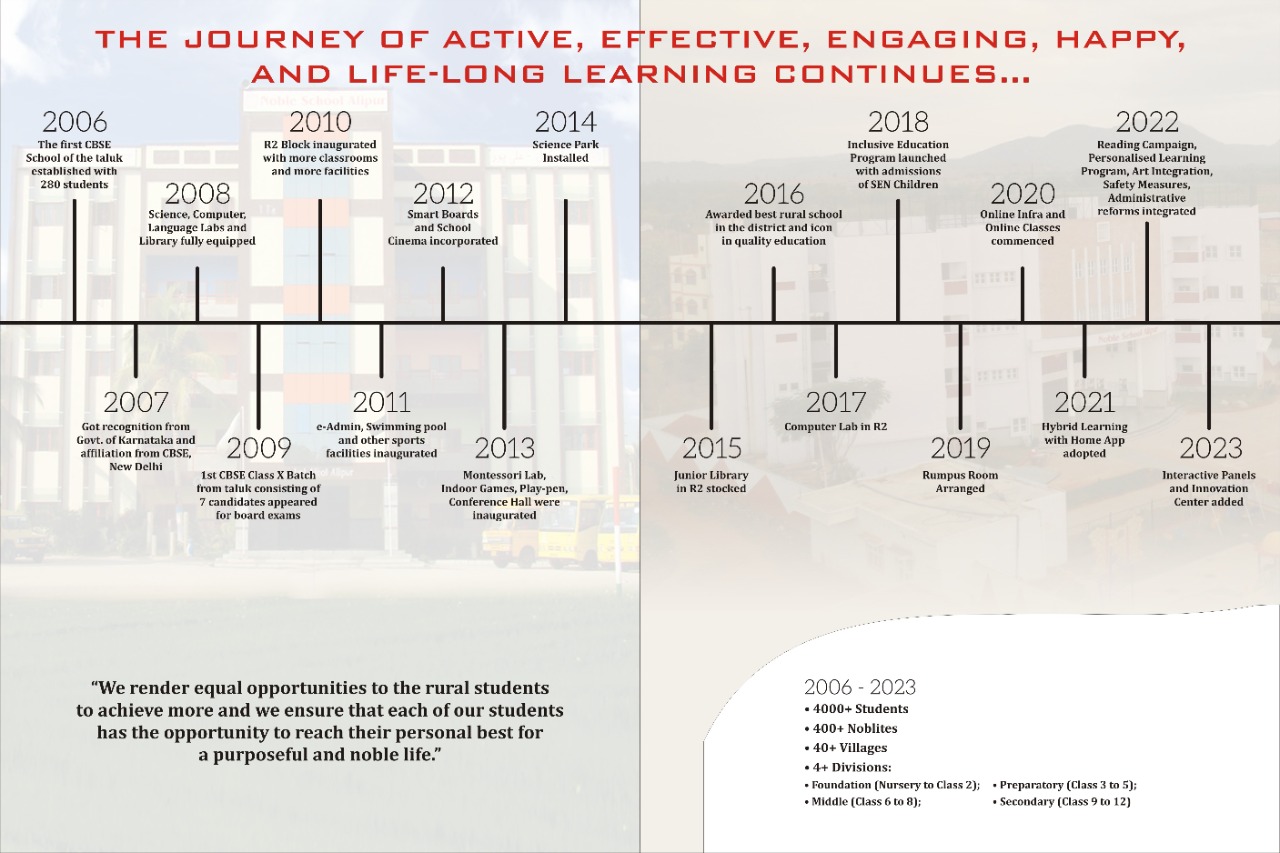 General Information
Year of Establishment of School

2006

Whether NOC from State Govt. Obtained?

YES

NOC No.

ED15 PGC2006

NOC issuing date

21/11/2006

Is the school is recognized, if yes by which authority

Yes, CBSE

State Govt. School No.

KA-0684

U-DISE code allotted to the school

29290500613, 29290500614

Status of CBSE Affiliation

Provisional

Affiliation No.

830180

Affiliation with the Board Since

2007

Extension of Affiliation upto

31/03/2020

School No.

410180

Whether school is recognised Minority school?

Yes

If Yes, Name of the authority

NCMEI, Govt. of India

Reserved Fund Created?

YES, In Bank of Baroda

Name of Trust Registered Under section 25 of the Company Act, 1956

R R Foundation

Period up to which Registration of Trust is valid.

Permanent

List of Members of School Managing Committee

Information available under Tab 'ABOUT'

Name and Official Address of the Chairman

Mr. Syed Akram Raza

Alipur, Gauribidnur Taluk, Chikkabalapur Dist. Karnataka – 561213

Phone No.

08155 289354